By Dana Lacey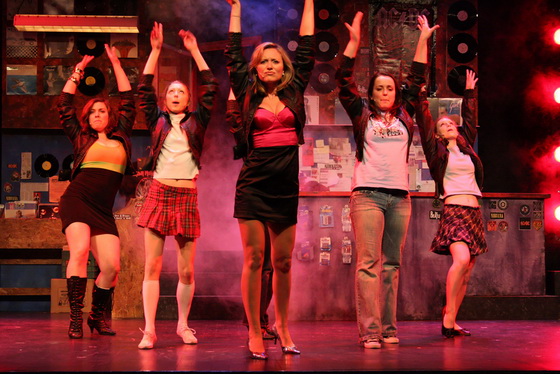 But that doesn't mean you shouldn't see it. Here's the top five reasons why:
1. Rob
The story starts when musical elitist Rob Gordon gets dumped. We watch him navigate through life by reliving past relationships and debating 'top five' lists. (His top five dream jobs include writing for the famous journo rag
New Musical Express
between '76 and '79 or producing at
Atlantic Records
between '64 and '71. Instead he owns a customer-starved vinyl record store.
2. It's already famous.
After more than a decade in print and on screen, High Fidelity has itself made a lot of top five lists. Author
Nick Hornby
wrote the wildly successful book in 1995, and Hollywood
grabbed hold
in 2000. Cusack muttered his way
into many hearts
as neurotically romantic Rob, cementing his legacy as the ultimate chick flick anti-hero.  The book launched Hornby's career and the movie boasted one of Jack Black's
best performances as himself
. Needless to say I had high expectations for the musical.
3. There's stuff to complain about (important for elitists)
The first 20 minutes were the hardest to get through. The best parts of the movie were quoted word for word: The cast weren't characters, they were parrots. Also I blame myself for this but my Cusack bias made it very hard to relate to the blond, clean cut David Light as a convincing 30-something rock snob. David was more like a Backstreet boy than one of the Ramones. But at least he could sing.
4. (A-side) It's a musical
The songs saved this musical from itself. When his girlfriend leaves him, Rob scoffs and sings "You aren't even in my top five breakups" while surrounded by a chorus line of the infamous Top Five. Jamie Arfin as Rob's ex bites back in a brassiere and assures him with a steamy diva number that nobody gets over her easily. I don't think anyone objected when she inserted herself into his list. The music really picked up in the second half, and I almost forgot about
Cusack
.
4. (B-Side) Nerds
The mötley crüe of record store shoppers sent me right back to my school days when I worked at a music megastore that shall remain unnamed. I loved Carl Swanson as the loveable loser Dick: his "No problem" solo celebrated the doormat in us all.
5. Jason Zinger
The musical also topped my all-time best rewind scenes (also on the list,
Ace Ventura
.) Guest appearances by aging rock gods helped too. The songs bounced between cheesy, sentimental, hilarious and sexy, with plenty of guilt-inducing soul searching. I particularly loved when Rob's pal does her best friend duty with an amazing rendition of "You meet, she moves in, she goes."

High Fidelity
the musical is worth checking out, even if you're not a Cusack fangirl (or maybe especially if you're not?)
Details:
Photo of  Rob's Exs: Erynn Brook as Charlie, Cora Matheson as Alison, Jamie Arfin as Laura, Jordie Currie as Sarah, Karen Scobie as Penny by Daniel DiMarco
 Showtimes:
Week 1: Fri-Sat 8pm
Week 2: Wed-Sat 8pm
Week 3: Wed-Sat 8pm & Sat 2pm matinée

Tickets are $25 for adults, $15 students & seniors. ($10 Student Tickets every Wednesday Night)