by Dorianne Emmerton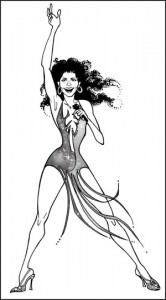 Lascivia (played by Angèle Morgan, who is also the writer) is a parody of a diva: everything she does is "fierce" and/or "fabulous." She name-drops – apparently Matt Damon tells bad jokes. She complains about having to get up at the early hour of 11 am so she can spend all day planning her hair and makeup for that evening. She has a sparkly dress, too many fans for even a computer to count, and a devoted keyboard player who is in no way discreet about his love for her.
This is basically a one-woman-and-half-a-man show. Pavel (Matt Folliot) throws in some commentary, and at one point even goes so far as to get up from behind the keyboard to first mock her and then confess his love. But the show is mostly Lascivia talking about Lascivia.
The premise is that Lascivia is on a world tour but on this show she breaks from the script that she plays everywhere else. This script describes Lascivia's genesis as being brought by angels riding bullets, or something like that, but tonight Lascivia reveals she actually has a mother. Not only that, but her mother does not support her career. Her mother has nothing positive to say about Lascivia at all.
Lascivia also sings some diva standards but with the words changed. This could have been amusing – everyone likes a good Weird Al type number – except there seems to be no rhyme or reason behind the changed words. They seem very random and don't make any funny different meaning. For example she changes "I am your lady and you are my man" to "You are Haiti and I am Iran" but then goes on with the rest of the original Power of Love song lyrics. With an opening like that you expect some jokes about earthquakes (although it might be too soon) and nuclear weapons.
Details:
LASCIVIA: Life, Love, Laughter Venue 8 St. Vladimir'sTheatre
60 min
Fri, July 2 5:15 PM – 809
Sat, July 3 11:30 PM – 819
Sun, July 4 5:45 PM – 823
Tue, July 6 1:00 PM – 833
Wed, July 7 6:00 PM – 842
Thu, July 8 5:15 PM – 849
Sat, July 10 8:45 PM – 865
– All individual Fringe tickets are $10 ($5 for FringeKids) at the door (cash only),  Online at www.fringetoronto.com, by Phone at 416-966-1062, in person (June 30 – July 11 only) at The Randolph Centre for the Arts, 736 Bathurst Street (Advance tickets are $11 ($10+$1 convenience fee), and $5 for FringeKids (no convenience fee for kids tickets).
– Several money-saving passes are available if you plan to see at least 5 shows