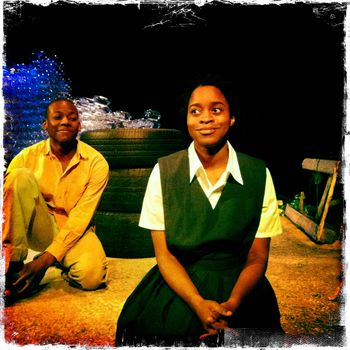 Earlier last month, a viral video surfaced on Facebook and other parts of the Internet about a man named Joseph Kony, leader of the Lord's Resistance Army, a Ugandan guerrilla group who utilizes the services of child soldiers. The video was courtesy of a project called Invisible Children, Inc., an organization aimed at bringing the war crimes of Kony to global awareness and the man himself to face justice. Now, regardless of the mixed revelations surfacing about Invisible Children, the crimes of Joseph Kony cannot continue unrecognized. I was distinctly reminded of that video posted to my Facebook wall after last night's production of Sia.
Sia is a dynamic, intense, and eye-opening play about a Canadian volunteer, Nick Summers (Brendan McMurtry-Howlett) on the eve of his return home from Ghana. He finds himself hungover and bound to a chair at the hands of his new friend Abraham (Thomas Olajide), a former Liberian child soldier. Abraham has taken Nick hostage in a life-or-death attempt to stop a war crimes trial at the International Criminal Court where his presumed dead younger sister, Sia (Jajube Mandiela), would have to testify. The purpose of Sia is to shed light on our First World illusions of the African conflict and to bring home the harsh truth: we are prisoners of our own sense of entitlement.
Taking on the small and intimate stage at the Factory Studio Theatre, the play is shown in two scenes, switching from one – the fierce struggle between Nick as desperate captive to Abraham and the painful escalation – to the other, flashbacks of Abraham with his sister Sia as she practices to deliver a peace speech to the UN.
You get drawn into this whirlwind very quickly as Nick goes beyond the realization that his friend has betrayed him and to the understanding that he may lose his life imprisoned as a hostage. You sympathize and feel Abraham's desperation rise as he uses Nick's life as a bargaining tool to send Sia to Canada for safekeeping. You are reminded of the innocence of children, a wide-eyed girl given the gift of receiving education, playing with her brother cutting through when the intensity of the here and now grows overwhelming.
Bob, my usual plus one, was with me again during last night's show. After wards, we found ourselves at a loss for words to describe how the last hour and a half had affected us. I asked him who out of the three stars stood out for him the most. He was captured by the performance of Jajube playing Sia and found himself captivated by the brightness of life that was vivid in her eyes throughout the performance only to be snuffed out at the end. I found myself drawn into the performance of Thomas playing Abraham. The duality of his role between the loving joy and frustration of being an older brother and the despair of having to risk another man's life in order to save that beloved sister, caught me as I recognize that sibling protectiveness having a younger brother myself.
Sia is unlike many plays you're likely to see if you're an avid theatregoer. The gritty rawness brings you there and keeps you entranced, you feel every breath, every movement, you cringe in pain and your heart breaks in loss. You are there, and as the production continues its run to April 15, you have another week to experience this phenomenon.
Details
–  Sia is produced by Cahoots Theatre Company and is playing at the Factory Studio Theatre.
– Performances run from March 24 to April 15. Evening performances are Tuesday to Saturday at 8 pm, matinees are Saturday and Sunday at 2:30 pm (Sundays are PWYC).
– Tickets are $11.50 – $30 and are available at totix.ca.
Photo of Thomas Olajide and Jajube Mandiela by Sandra Lefrancois.