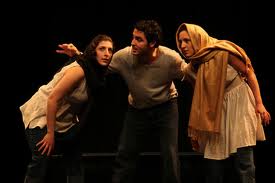 Be captivated by the Prisoner of Tehran at Toronto's TPM
It felt like quite a battle getting into see Prisoner of Tehran at Theatre Passe Muraille. The media were invited to a day other than the opening and I couldn't make it. Then I went at 7:45, expecting to see the show at 8:00. It started at 7:30. Third time being a charm, I felt like I had worked hard to see this show! This was the reason I squealed with glee when I saw that Theatre Passe Muraille had added the piece to their line-up.
I am a huge fan of CBC's Canada Reads program and that is how I came across the astounding novel which is a firsthand account written by Marina Nemat (defended for Canada Reads by Arlene Dickson). When I read it in February, I found myself running to the book every chance I could get. So I was bound and determined to see this show.
It is not an easy task to adopt a work of non-fiction to the stage. This is a book that travels with Nemat over several years of her life and there is no way possible to recreate that in two hours. That said, the story is so compelling it asks to be staged, filmed, told in every way possible. It is the story of how one 16-year-old girl comes to be sentenced to life imprisonment in the changing landscape of Iran during the 1970s and 1980s.
Nemat had several brushes with death, lost many friends and loved ones, and had her heart broken and her soul nearly destroyed. She lived to tell the tale and up until very recently lived a quiet outward existence, working at a Swiss Chalet in Aurora, Ontario. This really brings to light that anyone you meet probably has an incredible story.
This story was brought to the stage by Maja Ardal. I am a fan of Ardal's previous work including her fantastic ground-breaking one woman show "You Fancy Yourself". I noticed Ardal's headshot was of her in a hospital bed – please know Maja that we wish for your health!
I found this show to have so much of Ardal's playful staging and gregarious theatricality, however I must say that the performances overall didn't quite have weight and grounding that she herself has to make it all work. Both my date and I found so much of the show to come across more as an emotional mess. It was as though the cast of three were racing to the finish line to cram as much drama and as many moments in as possible.
It was a near frenetic pace off the top. Character after character, scream after scream. So much that it was nearly impossible to truly have the breathing room to connect to the play's main character of Marina or the myriad of other individuals which the other two actors struggled to play.
There was so much overwrought drama; so many screams that by the time the actual torture in prison occurred it had little weight for either of us. An emotional start at the highest decibel made both of us tune out a bit, despite my desperate attempt to do otherwise. We both felt it carried a didactic and nearly preaching tone in so much of the narrative – too much for Theatre Passe Murraille's space.
This might be because the piece was presented much the same way as the book – juxtaposing between flashback scenarios of childhood and coming of age with Nemat's time in prison. In real life Nemat has the time to do this and tell the story; on stage we don't get that same amount of time. This said, I found that the second half had so much more of that necessary stillness than the first and I could just be with the story more – my date agreed. My date also really loved the use of haunting, Middle Eastern chanting (I believe it is called "maqam") that was used throughout. All three performers had beautiful voices and this made so much of the transitioning effective.
A lot of was asked of these three actors. Bahareh Yaraghi has the daunting role of bringing the strong willed Marina to the stage. I felt that the quieter aspects of this character got missed – I adored the idea of a shy bookworm of a girl with a changing world around her. My date found her very militant and harsh. I am sure the truth of this woman is somewhere in the middle.
Miriam Katrib had the very difficult task of animating so many people in Nemat's life – from Grandmother to Mother to childhood friends to teachers. The work was good but the performances felt too large to connect with. I felt like we were watching a musical or a pantomime much of the time. This lead both of us to agree it would work better either as a one woman show or as show with a bigger cast.
My date and I were divided with Razi Shawahdeh's performance. I really thought he did exemplary work but it didn't resonate with my date. He plays ALL the men in Nemat's life – what a job to give a young actor! The hardest character to articulate was that of prison torturer/husband of Nemat – Ali. But at times Shawahdeh hit it on the mark – a man who truly loved Nemat but with less than endearing qualities. I was really glad that the show took time with this relationship. This was when the show was at its best – watching the conflicted, destructive and confusing relationship between two people in an equally conflicted, destructive and confusing time.
I was sad to see parts of the book that I loved got left out – particularly the relationship between Nemat and Ali's sister and the love of Nemat's life, her current husband. But I felt this piece was at its best when it simply took the time and breathing room needed to tell the story well. I didn't personally need as much of the story of her youth and would have liked more of the slow build of the changing landscape of Tehran than the frenetic pace of trying to talk about every person in her life.
Perhaps because the story, even in two hours, is rich enough as it is. It deserves to be told – buy the book, see this play. Atrocities like this still occur in Iran and around the world and these are the stories that we need to hear.
Details
– Prisoner of Tehran is playing at Theatre Passe Muraille (16 Ryerson Ave) until April 28, 2012
– Performances run  Tuesday through Saturday at 7:30pm and Saturday at 2:00pm
– Tickets are Tuesday to Thursday $25-30; Friday & Saturday: $30-35; Saturday Matinee PYWC (Pay-What-You-Can), Recommended: $15
– Tickets can be purchased online or the door