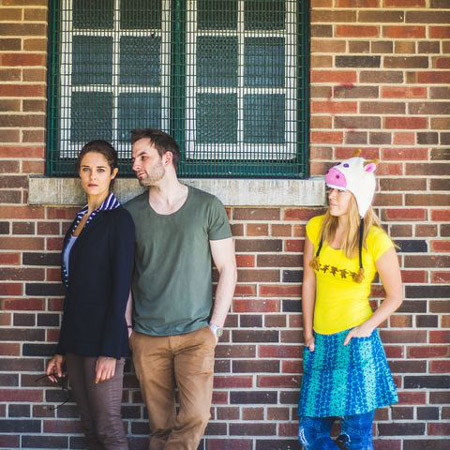 As I stood in the foyer of The Tarragon Theatre this afternoon waiting for Kin, it was apparent that the rain had not dampened the audience's turn out. As soon as the play started it was obvious that the actors were not going to let the rain affect their stellar acting either.
I was a bit apprehensive when the cheesy music signalled the start of the show, but my fears were quickly pushed aside when the actors took charge of the scene.
I have a serious fondness for a good intertwining storyline. Kin, written by Bathsheba Doran, is a great example of exactly this kind of writing. Made up of vignettes, Kin features 10 characters whose entwined storylines connect the lives of 2 families and a best friend.
The twists and turns were clean and smooth, not too obvious and not too twisted. Kin is a keen look at relationships between friends, family, and lovers without being clichéd or over dramatic. It reflects the ever changing family dynamic in our world that is getting smaller and smaller.
Tavistock Arts has recently been relocated from Dublin, and appropriately features one family from Ireland and another from the States
Although it touched on some darker elements of life, it still remained a comedy throughout. The diversity in characters ensured that you are bound to see one of your friends being played out on stage. Kin acknowledges that everyone has faults, everyone has baggage, but that does not have to hold us back.
Made up of a talented group of actors, the cast took on their roles with conviction no matter the size of their part.  I was thoroughly impressed with ease in which all the elements of this play came together. Kin is a clean, sharp play that I can very easily see having a great run and going on to the Next Stage Festival and beyond.
Details:
Kin is playing at the Tarragon Mainspace (30 Bridgman Ave.)
Performances
July 04 08:15 PM
July 05 03:00 PM
July 09 10:30 PM
July 10 12:00 PM
July 11 07:30 PM
July 12 08:45 PM
July 13 04:00 PM
Tickets
Individual Fringe tickets are available at the door for $10 ($5 for FringeKids), cash only. Late comers will not be permitted.
Advance tickets are $11 ($9 + $2 service charge) are available online at fringetoronto.com, by phone at 416-966-1062 ext 1,  or in person during the festival at the Festival Box Office in the parking lot behind Honest Ed's (581 Bloor St W).
Value packs are available if you plan to see at least 5 shows.
Please note that there is absolutely no latecomer seating during the Toronto Fringe Festival.
Image of Kin provided by Tavistock Arts