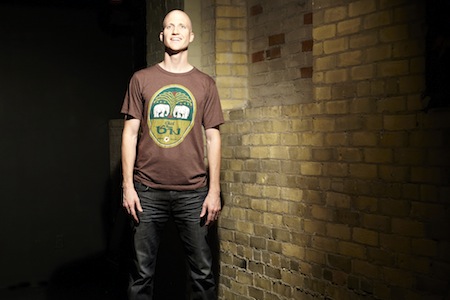 Double bill Kuwaiti Moonshine and By a Thread playing at Toronto's Sterling Studio Theatre are personal stories that though entertaining, fall short in their conclusions
Double bills are often hard nights of theatre to sit through. They're long, for starters, and they also ask the audience to suspend disbelief twice in a row, bring us from climax to conclusion only to do it all over again. Just as one story settles we're thrown into the next.
One-man-shows can also be hard nights of theatre to sit through. It is more difficult for a single actor to create what many can. Listening to the same person talk for a whole hour is trying in any setting, in or out of the theatre.
Sterling Studio Theatre's current double bill of one-(wo)man-shows Kuwaiti Moonshine and By A Thread makes for a demanding night of theatre.
Kuwaiti Moonshine was first, fresh off its successful tour of the Fringe circuit. It's fruit from the loom of Tim C. Murphy, who writes, directs, and stars in the piece. Largely influenced by Murphy's last 5 and a half years working as a teacher in Kuwait, the piece seems to blend the autobiography of the creator's actual life with a very large 'what if' scenario involving bootlegging, murder, and positive thinking.
It's one of those stories that begins at the end and then spends the next hour filling in the middle bits. "Story" is the operative word here;  this style of theatre feels a lot more like storytelling than a play. Murphy is mostly narrating events and feelings to the audience with few brief moments where he actually acts out the emotions/scenes.
For me, this resulted in a piece that didn't take proper advantage of either style – the storytelling or the acting. I didn't find the piece provided Murphy an opportunity to reveal his skills as an actor and I also didn't find the interwoven bits of inner-dialogue-turned-monologue that comprised the show's bulk to be an effective method of storytelling. I didn't feel wholly engrossed in the plot or connected to Murphy's characters.
The most captivating part, for me, was the piece's single foray into actual storytelling, when Murphy, as a sort of side note, narrates the life of his prison guard. He creates a complex character, weaves him a detailed, rich life, and makes his struggle palpable and realistic.
It's not like this piece is uninteresting, or poorly done, by any means. Each separate part is, for the most part, enjoyable, and there is always something commendable in a one-man-act that can keep its audience engaged and entertained.
But the building blocks of the piece didn't quite add up for me. I was left with the impression of a perhaps too-whiny man reaching an epiphany I didn't feel the play supported.
Diane Flack's By A Thread followed, and also followed suit, utilizing the same mish-mash form of monologue, storytelling, and role-play. Directed by Angela Beshara and featuring Heather Marie Annis, its premise is another timely glimpse into a character's life in the moments leading up to epiphany, this time an unspecifically-crazed artist, Rose, trying very hard to start/finish a painting.
If you recognize Annis as half of the popular Morro and Jasp clown duo and are looking for more here, you won't be disappointed. Annis is hilarious, endearing and quirky. The opening scenes in which she roams around stage indulging her dramatic/comedic style are really fun!
But then the piece takes a serious turn, as the reason for Rose's odd behaviour is slowly revealed. At this point it felt, to me, like a breach occurred. Suddenly Annis has to set her skilled clowning aside to be in a serious play and tell her character's sad backstory and I just couldn't leap from the hyper-expressive humour to the somber sentiment the plot demanded.
Annis has brought a special character to life in Rose, and her acting is sort of unbelievable in a very good way – I wanted to stay with her in the alternate, whimsical world it felt like she was creating. But then it all became too real, too normal, too much of a story I've heard before.
This made for another epiphanic ending I didn't quite believe – the second of the evening. This is, to be sure, a writing trope, entering a story at a pivotal moment that ends in some kind of profound resolution. But I wonder if the one-person genre feels an elevated expectation to wrap everything up in a neat profundity.
This double bill is a congruous pairing, and makes for an entertaining evening. Laughter comes easily and the plays leave us with much to be impressed with.
However, for me, the entertainment value was overshadowed by what felt like contrived conclusions. Two of these in a row make for an evening that feels a little long.
Details
Kuwaiti Moonshine/By A Thread is playing at Sterling Studio Theatre (163 Sterling Ave, Unit 3) until October 26th
Performances Times: Wednesday through Saturday at 8pm
Tickets are $20
Tickets are available online or at the door
Photos are by Angela Beshara of Inside Light Studios