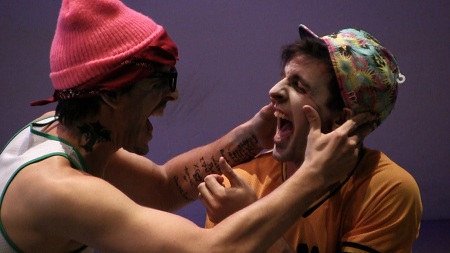 The SummerWorks Festival is a highlight of summer in Toronto, at least for those of us here at Mooney on Theatre. The festival features a mix of provocative, challenging, thought-provoking and controversial theatre, and once again our team has reviewed all of the theatre shows* in the festival.
We recommend that you go out and see as much as you can, but if you're looking for a place to start, see the following list of recommendations for the shows that our staff think you should see at SummerWorks this year.
Mooney on Theatre Staff Picks – 2014 SummerWorks Performance Festival
Mike Anderson has had a great SummerWorks so far, but he really cackled his way through GASH! — and so will you. A passionate, queer tribute to Hagsploitation (Baby Jane, Sister George, Sweet Charlotte and all the rest), this labour of love will blow you away: creepy, ticklish, perfectly-paced and wonderfully-acted.
Dorianne Emmerton enjoyed falling down the rabbit hole of A Quiet Sip of Coffee. This show explores the real-life experience of a gay/straight pair of best friends who attended a gay conversion camp in 2004. It was supposed to be a joke, but instead, bad things happened and the two became estranged. This iteration of the play is sub-titled "This is not the play we've written" as it also analyzes what happened when they were brought together seven years later to create the original A Quiet Sip of Coffee. It's a hilarious yet disturbing meta-theatrical, confessional docu-drama about sexuality, the dark corners of friendship and the fallibility of memory.
Devon Potter recommends that you check out And Now, The End.  The cast is made up of superbly talented performers with gorgeous voices, and the songs are the kind that will stay stuck in your head for days afterward.  Though it needs some polishing, it's worth seeing for the funny, the sad, the strange and definitely the heartfelt moments it includes.
Wayne Leung really thinks you should check out Jacqueries, Part 1. It's a site-specific immersive theatre/dance performance overlaid with music and visual elements accessed via an iPhone app. Characters guide the audience through back alleys, into buildings and onto rooftops on a heist thriller told through movement. The show beautifully blends technology and live performance. The whole endeavour is clever and surprisingly well-executed. It's creative and envelope-pushing.
Samantha Wu was blown away by Madam Mao, a play that could've been entirely politically and historically driven, and would've required extensive background knowledge on all things Chairman Mao, Jiang Qing, and China's Cultural Revolution, but instead it became a story about idealism and humanism which drove it home and made it accessible to a much broader audience. The performances are compelling and intriguing, and the physical theatre, including dance and martial arts, is very well executed. This is a show that resonates on many levels, and it's definitely worth checking out at this year's SummerWorks.
Ashima Suri highly recommends the smart, witty and sexy Montreal-based dance theatre production Thus Spoke… . Four strong performers take the stage and whisk the audience away with their sassy moves, clever dialogue and wonderful French accents. Thus Spoke… shocks and enlightens you. It makes you giggle and think. It gives you great material that you can use to change your own life. It reminds us of how much 'stuff' we have. It tells us we are privileged. Be sure to watch Étienne Lepage and Frédérick Gravel's Thus Spoke… .Without a doubt, Ashima would watch this show again…and again… and again.
S. Bear Bergman had to a tough call between ROW and Unknown Soldier, but Cris Derksen's deft live score weighted the scale just enough toward ROW. ROW, a piece about a Cree kept boy told from three parts of his life, is sensitive and penetrating. It does nothing less than interrogate the very question of our desires (and boasts a tremendously talented cast in addition to their hard-working cellist).
Mark Mann still has images from Antigonick playing through his mind days later. Beautiful, weird and wild, it was a good reminder of how fun an intellectual play can be (not to mention how disturbing Greek tragedies really are). He'd go again in a heartbeat, if only to see Haimon dragged in on a mop bucket.
Check out our full list of SummerWorks Theatre reviews.
*Mooney on Theatre reviewed every theatre show in the festival: theatre series the Juried Series, National Series, Dance, Sears Drama Festival Partnership, Site-Specific and Musical Works in Concert. The theatre-oriented Live Art shows are also reviewed separately. 
Photo of the cast of A Quiet Sip of Coffee by Lily Jamali