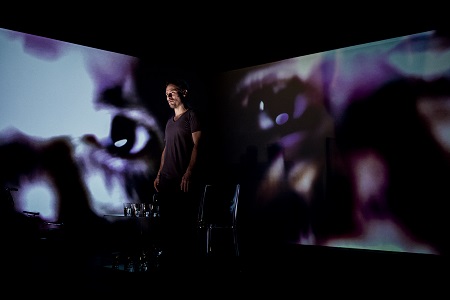 Cine Monstro, produced by Why Not Theatre as part of the 2015 Progress Festival, is a Brazilian adaptation of Canadian playwright Daniel MacIvor's 1998 show Monster. It's a challenging piece for a performer – one actor, several characters, ninety minutes – and Enrique Diaz, bearing an impressive resume from his home country, tackles it with skill. As with MacIvor's original productions (and indeed any of his one-man shows), the shifting perspectives in Cine Monstro are facilitated by excellent tech design; lighting and sound cues are perfectly choreographed to changes in time, place and persona. 
The voices in the play tell disparate stories that all hinge on a single event: a grisly patricide. From one point of view, this murder happened right next door; in others it's a scene in a movie that they want to make, or started to make, or have seen. But whether each character thinks it's real, or fiction, whether they think it's their story to tell or someone else's, they all struggle with dark demons in their lives such as addiction and neglect.
The use of video on the backdrop behind Diaz is slick and evocative: in an AA scene, headless participants cross and uncross their legs in slow motion; in a terrifying later scene, close-ups of eyes are portrayed in close proximity to long, sharp metal objects like large needles.
The text is performed in Portuguese with English surtitles, so it's best to sit further back from the stage where Diaz's face and the projection screen can easily be seen without any head, or much eye, movement. The language is fast-paced, but it's  possible to catch every word and still focus on Diaz's strong performance.
Details
All Progress Festival performances are being held at The Theatre Centre (1115 Queen St. W)
Tickets for Progress Festival Shows range from $10 – $30, several events are free
Showtimes and ticket information are available at thisisprogress.ca
Photo by Nathalie Melot