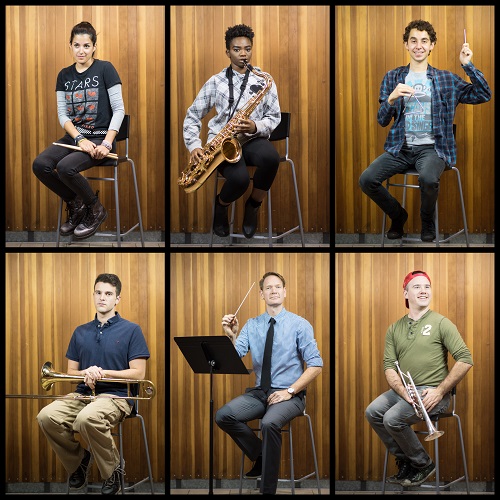 A Bear Awake in Winter —playing at Toronto's Factory Theatre as part of the Next Stage Theatre Festival—is an absorbing, character-driven story about a high school music class. It's a play on a mission: that of undoing the connection between discrimination and the need for constant vigilance in a world run by entitled men, and a sense of shame that it's one's own fault for having to always be on guard.
Director and playwright, Ali Joy Richardson, does not rush to show us how someone with a history of oppression, of being told and shown they are second rate, could come to believe they have to prove otherwise to everyone they meet. It sinks in organically, good old self-deprecating Canadian kindness eventually morphing into normalized self-loathing.
This process is most evident in Flute, played with sensitivity and tons of cognitive dissonance by Michaela Di Cesare. It is anything but obvious to Flute that the abuse she has suffered doesn't reflect on her worth as a person. She has been traumatized into believing this worth has to be earned from other people rather than everyone having an innate right to it.
Andrew Di Rosa makes blood boil as the abuser, Trombone, a constant nagging thorn in everyone's side. He narrows in and never veils Trombone's entitlement to whatever he wants as payback for a hard life.
As a whole, the cast is more than capable of embodying a microcosm of our time, and making it digestible with comedy that always lands like a balm. They guide us from the 10,000-foot view of #MeToo to the ground-level discussions with friends, classmates, and colleagues that are required for the day-to-day to change.
A Bear Awake in Winter is a kind of roadmap to ethical sustainability. It espouses a worldview beyond a lot of people's reach that not only watches out for the victim, but also worries about the person responsible for the harm. This one is meant to stick with you long after curtain.
Details:
Photo of Andy Trithardt, Hershel Blatt, Natasha Ramondino, Andrew Di Rosa, Bria McLaughlin, and Danny Pagett by Neil Silcox.