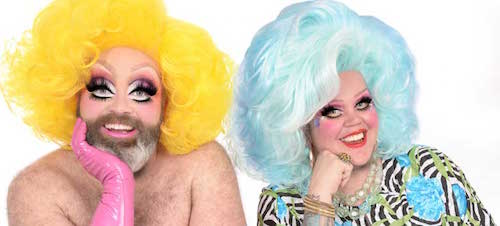 Everyone get ready for Rhubarb! Buddies in Bad Times Theatre presents the 40th installation of the wild and wonderful bite-sized theatre festival from February 13-23, featuring a host of talented creators doing what they do best.
The anarchic and experimental nature of the event, Canada's longest-running new works festival, makes it a review-free zone. Artists – and there are more than 100 involved this year – are encouraged to run, play, and even cavort with their creative impulses. Some works remain festival-specific, and some go on to expansion and remounting.
Each night of the festival features a lineup of performances happening simultaneously in the Chamber and the Cabaret. For a $20 evening pass, audience members get free rein to move between the two main performance spaces after each show, seeing between 4-5 different works over the course of the night. A small number of events, the Saturday Early Shows, require their own specific entrance ticket and fee, and can be combined with an evening pass.
The choose-your-own-adventure aspect of the festival makes it very personal, but if you wind up with FOMO on the pieces you didn't see, you can always come back another night. The line-up changes each week, opening up even more possibilities.
Some highlights this year include Feygele, a German-with-English surtitles solo performance about going past the labels to the soul of the marginalized, from Tobias Herzberg of Berlin's Maxim Gorki Theater; the culmination of the AMY Project's Performance Creation Program, featuring stories from young trans women and trans femmes of colour; Wasp, which pits a genderqueer revolutionary against some angels intent on impregnating young women; and The Apocalypse Plays: The Legacy Project, which teams up Kate Lushington and Natasha Greenblatt to finish a mother-daughter performance trilogy almost as old as the festival itself.
Genres range from drag cabaret featuring children in the audience (kids attend for free) and on stage (Fay and Fluffy's Family Fun Cabaret) and a lip-synced anime drag show from Halifax's HEIST (The Princess Show), to a referendum on standup as art, featuring a star-studded list of queer and POC comics (Is This Art?), to an aerial circus performance (In the Fire), to cowboy dance-theatre from New York's Pioneers Go East Collective (CowboysCowgirls), to an ASL performance with English subtitles from three BIPOC Deaf artists (Deafies' Unique Time), to an Afro-Futurist, queer rock opera (The Big Sissy Show: The Message). There's something for everyone, and perhaps even something that you didn't think would be for you, but is now.
This year, Buddies is also teaming up with the Progress Festival at the Theatre Centre to shuttle audiences between the two venues on festival opening and closing nights. Not only will audience members arrive at the parties in style, but they'll see pop-up performances during the ride – one of the only times you'll hope for traffic.
On a personal note, I remember discovering the sheer propulsive energy of a Rhubarb evening way back when. High school me didn't always know what was going on, but I knew it was awesome, unique, and a heck of a lot of fun. Whether you're a Rhubarb diehard, or a Rhubarb newb, it'd be well worth your while to check it out.
Details:
The 40th Rhubarb Festival plays at Buddies in Bad Times Theatre (12 Alexander St.) from February 13-23, 2019.
Shows run Wednesday to Saturday on a varying schedule that can be downloaded at Buddies' website.
Tickets are $10-25 and can be purchased online, by calling 416-975-8555, or in person at the box office.
A limited number of PWYC tickets are available every day at the box office from 12-6pm. February 13 and 20 PWYC tickets are available through TodayTix.
Photo of Kaleb Robertson and John Paul Kane provided by the company