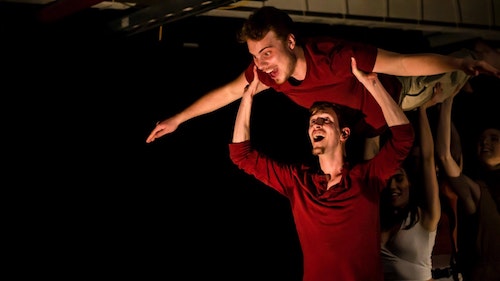 Icarus challenges us to take a glimpse of the ambitious yet reckless nature of humanity. With high-flying lifts and incredible feats of strength, Toronto Fringe Festival presents the contact improv/viewpoints-based production Icarus at the Al Green Theatre.
Icarus investigates what it means to fly, and what it means to fall, through the classic Greek tale of Icarus. Haiden Lyle, Cullen MacNaughton, Simone Matheson, Kiera Publicover, and Kyra Scarlett begin the piece in silence with the house lights on. Immediately, there is tension in the room; audience members hold their breath as not to make a sound.
In the first scene, each member folds over in a rag doll manner. The performer takes turns reciting statements, coupled with an audible inhale. This is repeated throughout, standing as a clear indicator that there is a break in between each scene. I appreciate how this gives clarity to audience members and allows time to mentally prepare for the next sequence.
The company recites a greek chorus-like story of Icarus at varying times. At first, all members speak in unison, then take turns to repeat parts of phrases and sentences. It's powerful to hear all dancers speak throughout the entirety of the piece. It seems as if a storybook is brought to life.
The company uses story theatre elements in its narration. The performers embody different roles. In one scene, one performer is the narrator. In another, the performer is a part of the scenery. And in yet another, one may embody an emotion. I found the use of multiple performers in multiple roles quite engaging. It keeps audience members an active participant in the show.
This piece grapples with the complexity of human nature as it explores stories with themes of insanity, admiration, hope, and obsession. First, the company retells a portion of folklore. Then, the audience is transported to present day. Scenes depicted included toxic relationships and battles with addiction. We are reminded that, like Icarus, we too could fall from recklessness behaviour.
One piece I particularly felt connected to was that of a toxic relationship. In this sequence, two characters remain friends, although there is an underlying hatred for one another. The tendency to maintain toxic relationships is something that I believe audience members of all ages can identify with. There is a fear attached to the reluctance of letting go, even when something is toxic.
The use of non-music sound cues, such as a high pitched, piercing noise or the laughter of children, was also highly effective. It allowed me to keep in touch with my senses and helped set the tone for each scene.
The dancers were precise in their facial expressions. It was clear when the actors were humans versus when they embodied inanimate objects, such as a tower. The use of story theatre elements combined with skillful movement and dance is a wonderful representation of the versatility of this company.
Icarus is well constructed piece that challenges us to explore the complexity of our human emotions as we continue to dream for ambition and success.
Details
Icarus plays at the Al Green Theatre. (750 Spadina Ave.)
Tickets are $13, including a $2 service charge. The festival also offers a range of money-saving passes and discounts for serious Fringers.
Tickets can be purchased online, by telephone (416-966-1062), from the Festival Box Office at Scadding Court (275 Bathurst St.), and — if any remain — from the venue's box office starting one hour before curtain.
Content Warning: mature language.
This venue is barrier-free. Note that only certain building entrances are wheelchair-accessible. Accessible seating is in front of the front row.
Be aware that Fringe performances always start exactly on time, and that latecomers are never admitted.
The Toronto Fringe Festival is scent-free: please do not wear perfumes, colognes, or other strongly-scented products.
Performances
Thursday July 4th, 10:30 pm
Saturday July 6th, 7:30 pm
Sunday July 7th, 5:00 pm
Tuesday July 9th, 1:00 pm
Thursday July 11th, 3:30 pm
Friday July 12th, 9:45 pm
Saturday July 13th, 5:45 pm
Photo of the cast provided by the company