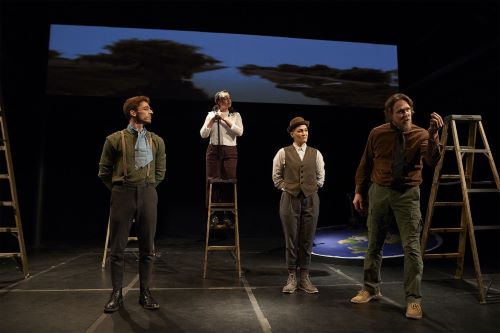 Exploring grave subject matter, The Wager is topical and informative
Theatre Gargantua presents The Wager, now playing at Theatre Passe Muraille.  Combining vignettes, storytelling, movement, and original music, this show  presents a series of  meditations on the human capacity for belief.  The lessons provided by The Wager allow for deeper understanding of some of our most pressing current events.
The Wager (written by Michael Gordon Spence) is so titled because it tells the story of a 19th century scientist who took up a wager to prove to a wealthy Flat Earther that the world is round. The title also concerns our modern climate crisis; namely, whether we are willing to wager our futures in favour of maintaining the status quo.
In addition to the story mentioned above, The Wager weaves together vignettes, original music, and movement which explore humanity's capacity to believe. In distilling his findings, Spence's script provides the audience with a fascinating opportunity to further understand phenomena like fake news and climate change denial.
This show was certainly a learning opportunity for me. I think it's easy for some of us to think of people like climate change deniers, anti-vaxxers, and flat Earthers as simply misguided or ignorant. The Wager doesn't let us keep that simple assumption. On the other hand, I left the show feeling like I had a greater understanding (dare I say, even empathy) of why those people hold those beliefs. In this regard, I believe the show to be an invaluable one.
This show is engaging and enjoyable to watch. The ensemble (Olivia Croft, Teiya Kasahara, François Macdonald, and Spence) has incredible chemistry, and individually each actor effortlessly weaves in and out of their varied roles. Their original music (with additional composition by Thomas Ryder Payne) added another dynamic element to the performance, making it even more of a joy to watch.
Considering the grave subject matter, this show does an effective job of maintaining an accessible tone. It felt far more exploratory than "navel gazey", and I often had a smile on my face.
Of note is the show's design (lighting by Laird Macdonald, costumes by Sarah Delignies, sound by Payne, and set by Spence) which was generally minimal, yet all around effective and inventive. I don't think I've ever seen ladders used as both set pieces and noise makers in a show before!
If there was something I felt was missing, it's that I wish there was more said about when it is possible to communicate across difference and to help others see the truth. As reiterated by this show, widespread denial (and propaganda fueling said denial) of our current existential threats is a major problem we must reckon with. I left the show wondering what I can possibly do with this newfound understanding of why that denial exists.  There are many things I  love about this show, but I was still left with the same feelings of dread and futility that I'm often sitting with these days.
All of that being said, it's quite possible the answer might come to me as I continue processing what I saw.  All things considered, I believe The Wager is informative, topical, and highly entertaining — it's well worth seeing.
Details
The Wager

is playing until November 30, 2019 at 

Theatre Passe Muraille Mainspace

(16 Ryerson Avenue)
Shows run Wednesday to Saturday at 7:30pm
Ticket prices range from $22-35 with PWYC on Thursday November 21
Tickets are available online, by phone at 416-504-7529, or in person at the box office
Photo of François MacDonald, Olivia Croft, Teiya Kasahara, and Michael Gordon Spence by Michael Cooper