Witty Toronto references fill this version of The Little Mermaid, a fun play for the family, at the Elgin Theatre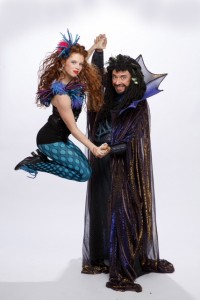 Of the dozens of references to contemporary culture in Ross Petty Productions' pantomime The Little Mermaid, my 12-year-old theatre companion got all but one. Indeed, I explained "the vibrating thing in the handbag" to her.
But it was me who repeatedly leaned over to ask her who was the original singer of some hit song or where a funny quote came from. "Ontario's O-fish-al family Musical!" is so smack-dab 2013 that you might need a junior translator to get it.
Fortunately, The Little Mermaid is just as thick with allusions to current day Toronto politics that adults have enough to keep them busy. It also features a stellar cast that makes for no regrets that you're not up the street at the other "Dalt Wisney" production.
This one's impossible not to enjoy, and makes for a great night out – no matter your age. Got that, you lugers?
I've seen many of Petty's audience-engaging holiday performances, but this one – his 18th to date – is by far the slickest.
Partly it's because Ross Petty just seems to have it down. The script is terrific, and various multimedia effects are used to embellish scenes and provide dynamic backdrops.
The story is fun and funny, full of "petty by day, petty by night" humor and "QEC – Queen Elizabeth Current"-type wordplays. Being a Toronto holiday classic, we expect to boo and hiss the villainous Petty (and we do), and otherwise have a good time not sitting in our seats in silence.
The Little Mermaid takes us to the Toronto waterfront, where beautiful, sexy mermaids on roller skates are hard at work cleaning out garbage that humans have dumped into the harbour. The first wow of the show is Chilina Kennedy, who stars as lead mermaid Angel with a voice that's… angelic.
Angel's entourage of mermaids and her sidekick Carl the Clownfish (Reid Janisse, who also authored the script) – swing through wordplays and songs as they help Angel prepare for her ascent to the surface.
Up above, Angel falls in love with Adam (Marc Devigne, the season one Canadian Idol finalist whose abs and voice leave the audience swooning), and the bigger plot unfolds. Turns out the evil sea wizard Ogopogo (Ross Petty) is out to build a huge casino in the middle of Toronto harbour – and Adam and his pals are out to save it.
Dan Chameroy, familiar to Petty's pantos, plays, once again, a fantastic drag queen Dame Plumbum. Jordan Clark, winner of So You Think You Can Dance Canada season four, cranks it up a notch with her flips and acrobatics.
The younger set keeps occupied with the Sancho Panza-type Sponge Bob Triangle Pants (Eddie Glen). But they'll also be wowed by the rest of it.
Details
The Little Mermaid is playing at Elgin Theatre (189 Yonge Street), from Nov 22, 2013 to Jan 4, 2014
Tickets are $27-$85 and can be purchased online or by calling the box office at 1-855-599-9090
Photo by Racheal McCaig.