Doc Wuthergloom kicks off the Halloween season at the Red Sandcastle Theatre in Toronto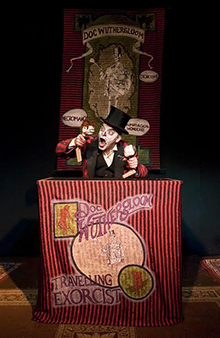 It's October, and that means it's time for those theatrical productions of the more macabre variety to crawl out from under the floorboards and regale Toronto with all the creepy crawly goodness of the Halloween season. One such production you're not going to want to miss is Doc Wuthergloom's Haunted Medicine Show from Eldritch Theatre.
The brainchild of Eric Woolfe (who also stars as the titular protagonist), the Haunted Medicine Show is a fun mashup of one man narrative, puppet show and magic showcase all based around the immortal traveling exorcist, Doc Wuthergloom. Immediately upon entering the theatre we were greeted by Paula Schultz acting as Wuthergloom's Usher and Shill, helping us to our seats and helpfully offering us a copy of Doc Wuthergloom's Home Exorcism Almanac, a steal at only $5. Schultz' effortless improvisation and fun salesmanship immediately won me over and I was happy to part with a five spot for a copy, full of entertaining bits of spiritual apocrypha, letters to the editor from satisfied (and not so satisfied) customers of the Doc and helpful tips on dealing with spiritual problems of one's own.
Once the show started we were regaled by Woolfe who very quickly established an easy routine; starting off with a snippet of his personal history and how he came to be wandering Canada offering his skills to the public, followed by a puppet performance talking about the grisly fate of some poor soul and finally a magic trick to exorcise the spirit, always ending with a threat to the poor "volunteer" audience member who helped in the trick, for whom the only salvation was the knowledge available in Doc Wuthergloom's Home Exorcism Almanac (for only $5! A steal when you consider the spiritual protection provided!).
From a performance perspective, Woolfe was fantastic, seamlessly transitioning from sequence to sequence and showing some very impressive voice work, even changing his voice from the raspy carnival barker voice he used as the Doc to a much more innocent cockney as he portrayed his younger and more naive self.  As someone who has an unhealthy fascination with sleight of hand I won't deny I caught some of his moves during the magic but one of the really fun things about the character of Doc Wuthergloom is that he's enough of a buffoon that I never cared how polished the magic was, the patter and showmanship made every display a fun experience.
In the end, even though it's a short run I heartily recommend you check out Doc Wuthergloom's Haunted Medicine Show. It's well worth the price of admission and a great way to celebrate the spooky season. If I can give one piece of advice it would be to be sure you bring extra cash, not only to purchase a copy of Doc Wuthergloom's Home Exorcism Almanac (now with a second volume available, both available at the special price of $10!) but also the Dime Museum of the Damned which happens at the end of the show which costs an additional five bucks.
Details:
Doc Wuthergloom's Haunted Medicine Show is playing at The Red Sandcastle Theatre (922 Queen Street East)
Performances run from October 7th -10th
Showtimes are 8 PM every night with a Saturday Matinee at 3 PM
Tickets are $20
Tickets can be purchased online or in person
Photo of Eric Woolfe by Dawn Weaver