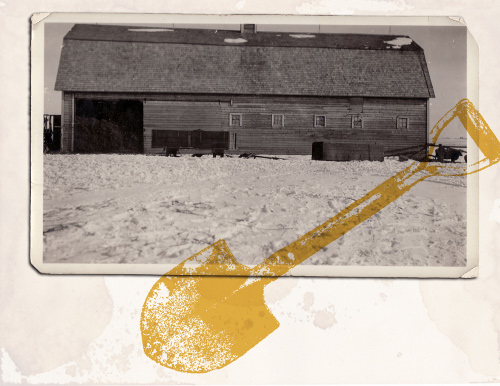 When James and Oliver get themselves kicked out of medical school, they decide to start robbing graves in a madcap scheme to buy their way back in. Just your classic 19th Century buddy comedy. Really. Complete with a gun-toting maniac, unrequited love, and a cadaver that can't manage to stay dead. That's the basic setup of The Resurrectionists (House of Rebels Theatre), playing at the 2017 Toronto Fringe Festival.
This show has a great premise: two grave-robbing pals (Ross Hammond and Anthony Di Feo) end up stealing a body that turns out not to be quite as dead as they originally thought. (Technically, they steal the body from a morgue and not a grave—is that cheating?). Their original scheme foiled, the two friends find themselves at odds over what to do with the "undead" cadaver, who turns out to be an unrepentant murderess named Shelley (Olivia Winston).
Despite the promise of this set-up, The Resurrectionists still feels like the first draft of a play that could be something really great by, say, draft three. This is a roundabout way of saying that it seems like it's still working out what it wants to be and who its characters are. Tonally, it's a dark comedy with lightning-fast irreverent wit and a keen sense of the absurd. That darkly comic sensibility is somehow the show's best and most frustrating feature.
In short: the play is very funny, but the jokes often come at the expense of coherent character motivations and plot progression. Character personalities tend to bend if a particularly good line is at stake, which means that some of the best jokes (and The Resurrectionists is often very funny) feel random and disconnected from any firm sense of who these people are and why they're behaving the way they're behaving. It's not that the characters are indistinct or bland, but they do feel either broadly drawn or inconsistent.
For example, both female characters—Shelley, and her former accomplice Daisy (Laura Harding)—are played for the rafters. They're constantly in motion and their body language is big and demonstrative and—particularly in the cartoonish Daisy's case—unrestrained. In comparison, the men's performances feel more naturalistic, and the clash of styles means that the cast doesn't always feel like they're interacting with each other. Between them all, the show never really feels like it settles into a totally comfortable rhythm.
Because the show is so irreverent, it's a little harder to believe the moments of genuine emotion that should anchor the show. Sometimes they land (in the case of Oliver's genuine regret for the fatal mistake that saw both boys expelled from medical school), and sometimes they don't (in the case of Shelley's motivation for her own crimes, which feels more generic). By the time the final scene rolls around, it feels like the show has only just started to figure out who these characters are and what they're really made of.
Overall, The Resurrectionists is what I'd call a promising show. It's got a fabulous set-up, an intriguing plot, and a pretty funny script. It just also feels like it needs a few more passes and a bit more development, especially in the character department. That being said, it's a show that I would genuinely love to see develop further. So don't hesitate to see this one: its potential is exciting and entertaining, even if it doesn't feel fully cooked yet.
Details
The Resurrectionists plays at the Randolph Theatre. (736 Bathurst St.)
Tickets are $12. The festival also offers a range of money-saving passes for serious Fringers.
Tickets can be purchased online, by telephone (416-966-1062), from the Fringe Club at Scadding Court, and — if any remain — from the venue's box office starting one hour before curtain.
Be aware that Fringe performances always start exactly on time, and that latecomers are never admitted.
Content Warnings: Gunshots, Realistic Violence or Gore, Mature Language.
This venue is wheelchair-accessible through a secondary route. We recommend checking in with the venue box office at least 20 minutes before showtime.
Performances
Wednesday July 5th, 06:30 pm
Thursday July 6th, 08:45 pm
Saturday July 8th, 01:45 pm
Monday July 10th, 08:15 pm
Wednesday July 12th, 12:00 pm
Friday July 14th, 09:15 pm
Saturday July 15th, 01:45 pm
Photo designed by Rick Jacobson of Deadcat Design.