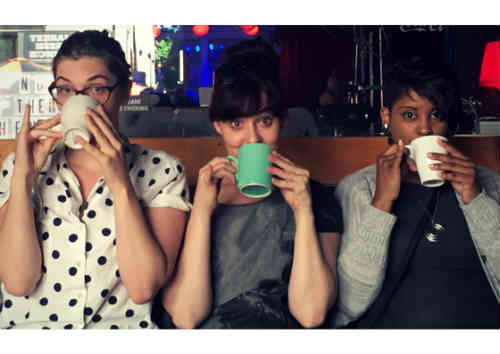 From Press Release:
Plays In Cafés is returning to the Toronto Fringe for the 4th time. The signature series, created by Shadowpath's Artistic Director, Alex Karolyi, launched in Newmarket in 2006. It has since provided a platform for new works and has frequented dozens of cafés in six different municipalities in York Region. In 2015, Plays In Cafés expanded its reach into Toronto and Vancouver via the Fringe!
Part of Shadowpath's new work development is to nurture female theatre creatives. Plays In Cafésshowcases the Shadowpath Femme5 with an all-female production team and new plays created by women and directed by the unstoppable, Rosanna Saracino.
This year, Plays In Cafés has a new venue partner – Poetry Jazz Cafe, introducing a jazz trio to the production. Guests receive a menu where each item tells a story. The audience then charts the artistic course of action by ordering their entertainment off the menu. Three of the five possible plays will be performed each night and an evening of theatre and song shall be served throughout the venue. The flavour of plays includes rich, bitter, dry, sweet and spicy
Shadowpath was founded in 2002 and is a charitable arts organization that turns everyday spaces into creative places. Plays In Cafés is Shadowpath's version of café theatre, integrating the performing arts with café culture. Shadowpath received the 2016 Chamber of Commerce Business Excellence Award for Innovation in Newmarket and the 2016 Creativity Connected Award for Best Innovation in Richmond Hill.
Details
Plays In Cafes plays at the Poetry Jazz Cafe. (224 Augusta Ave.)
Tickets are $13, including a $2 service charge. The festival also offers a range of money-saving passes and discounts for serious Fringers.
Tickets can be purchased online, by telephone (416-966-1062), from the Festival Box Office at Scadding Court (707 Dundas St. W.), and — if any remain — from the venue's box office starting one hour before curtain.
Content Warnings: Mature language; Audience participation; No minors admitted; Unconventional venue.
The Fringe Festival considers this venue to be wheelchair-accessible.
Be aware that Fringe performances always start exactly on time, and that latecomers are never admitted.
Performances
Thursday July 5th, 7:00 pm
Friday July 6th, 7:00 pm
Saturday July 7th, 7:00 pm
Tuesday July 10th, 7:00 pm
Wednesday July 11th, 7:00 pm
Friday July 13th, 7:00 pm
Saturday July 14th, 7:00 pm