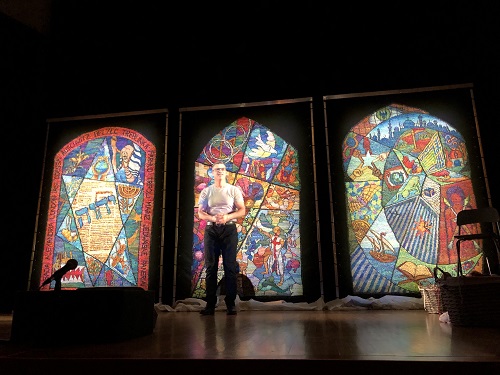 Tonight, we sat in pews at a church which had that solemn old church smell to see a thoughtful, moving play. It shares one man's questions about Christianity, Judaism and Islam  — via knitting. The Knitting Pilgrim, workshopped by Ergo Arts Theatre and playing at the Toronto Fringe Festival, is indeed a beautiful work of art that culminates in three knitted tapestries. Each one represents a religious faith.
While being performed in a venue from 1887 and discussing centuries-old religions, The Knitting Pilgrim by Kirk Dunn has a modern feel, thanks to image projections of conversational text, video interviews, funny photos, and even hashtags like #BYOK. We were invited to BYOK — Bring Your Own Knitting — and to my surprise, there were at least a dozen knitters in the pews, just owning their act of creation. This created a calming, participatory ambiance that I found most welcoming.
Dunn is a personable story-teller who ties together heavy reflections on how we tend to "shrink God to fit our points of view" with Knitting 101 lessons by "Knit Cam." I watched him explain various stitches step by step, and I personally found these brief interludes to be soothing. This peacefulness was a contrast to Dunn's experiences with polarizing debates regarding religions.
After the play we were able to look at Dunn's knitted tapestries up close, and they were wondrous and thought-provoking. People stayed awhile to look, ask questions, and hand in their knitted squares. It was inspiring to see a work that took blood, sweat and tears to create. Today we can buy kits to make things quickly and get instant gratification, while this "stitched glass" needed 15 years of endurance and contemplation.
For Dunn's spirit of inquiry and peace, as well as his ability to tell a great story, I give The Knitting Pilgrim five stars.
Details
The Knitting Pilgrim plays at Bloor St. United Church. (300 Bloor St. W.)
Tickets are $13, including a $2 service charge. The festival also offers a range of money-saving passes and discounts for serious Fringers.
Tickets can be purchased online, by telephone (416-966-1062), from the Festival Box Office at Scadding Court (275 Bathurst St.), and — if any remain — from the venue's box office starting one hour before curtain.
Content Warning: audience participation (optional knitting)
Be aware that Fringe performances always start exactly on time, and that latecomers are never admitted.
The Toronto Fringe Festival is scent-free: please do not wear perfumes, colognes, or other strongly-scented products.
Performances
Wednesday July 3rd, 7:00 pm
Thursday July 4th, 7:00 pm
Friday July 5th, 7:00 pm
Saturday July 6th, 7:00 pm
Sunday July 7th, 3:30 pm
Tuesday July 9th, 7:00 pm
Wednesday July 10th, 2:00 pm
Thursday July 11th, 7:00 pm
Friday July 12th, 7:00 pm
Saturday July 13th, 7:00 pm
Photo of Kirk Dunn by Paul French