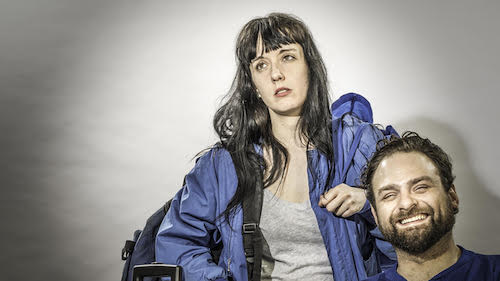 Ok…it's only the first day of Fringe and I think I've already found my favorite show. What is happening!? Is it a full moon? Am I on my period? Am I being blinded by love chemicals? No…Emotional Labour is just that good.
The second the lights go up on the homey set of Emotional Labour "it's go, go, go". Mel (Jess Beaulieu), trudges in, Dollarama bag in hand, plucking crushed beer cans from the domestic landscape that is their frumpy Toronto apartment while her boyfriend Dan (Luis Fernandes) waves around a ziplock bag of dry rice, slowly unraveling into a nervous breakdown over his waterlogged Telus phone… "ancient grains can't fix modern technology". The whole ordeal ends with Dan in his underwear…and that's just the first scene.
What follows is a bold, painfully real, theatrical adventure between Mel and Dan, two kids in the big city just trying to make their relationship work.
The show was written by the actors themselves and it was great. I found the dialogue to be very natural, almost like they took scenes "verbatim" out of real life, that is…if real life just so happened to have perfect comedy timing.
I'm trying to think of specific "funny" moments, but the show wasn't really about "gags" or "bits". The humour was woven into the dialogue as well as the action of the story making it very comfortable (and fun) to watch. The audience was constantly bubbling with laughter as the show went on.
There are a lot of laughs, but there are also sweet, "emotional" moments like when Dan (Luis Fernandes) broke down crying while talking to his friend. In another show, we maybe would have laughed at this moment, but these characters are just so authentic. They remind you…of you. You can't help but take their journey seriously.
As a whole, Emotional Labour really "makes the mark" but the final ingredient that makes this show so special are the actors themselves. I already knew how good Luis was and now I'm a fully converted "Jess Beaulieu" fan. These two have mad chemistry together and their focus never wavered. They were like athletes up there. Athletes who really know how to act!
When the show ended, you could feel the energy steaming off the audience. Everyone seemed to be in a good mood because they were just served some quality Fringe fare.
If you're looking for a "sure-thing" at this year's Toronto Fringe Festival, check out Emotional Labour at the Factory Theatre Studio Space. It's a fully-realized, fun romp through modern relationship land hosted by two powerhouse actors.
Details
Emotional Labour plays at the Factory Theatre Studio. (125 Bathurst St.)
Tickets are $13, including a $2 service charge. The festival also offers a range of money-saving passes and discounts for serious Fringers.
Tickets can be purchased online, by telephone (416-966-1062), from the Festival Box Office at Scadding Court (707 Dundas St. W.), and — if any remain — from the venue's box office starting one hour before curtain.
Content Warnings: Sexual content; mature language; audience participation; not recommended for children.
The Fringe Festival considers this venue to be wheelchair-accessible.
Be aware that Fringe performances always start exactly on time, and that latecomers are never admitted.
The Toronto Fringe Festival is scent-free: please do not wear perfumes, colognes, or other strongly-scented products.
Performances
Wednesday July 3rd, 10:00 pm
Friday July 5th, 3:45 pm
Saturday July 6th, 5:00 pm
Monday July 8th, 8:00 pm
Thursday July 11th, 9:15 pm
Saturday July 13th, 1:00 pm
Sunday July 14th, 7:45 pm
Photo of Jess Beaulieu and Luis Fernandes by John Gundy