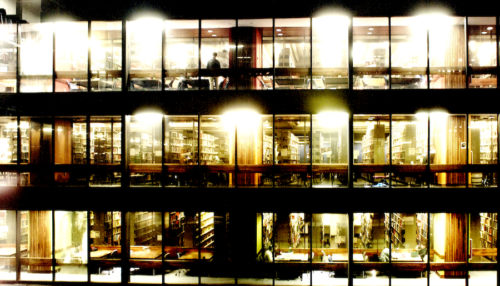 Zuppa Theatre Company's The Archive of Missing Things is being put on as part of  Summerworks 2019 at The Sanderson Library (327 Bathurst Street). It is an interactive theatre piece taking place in the library with other patrons there. This show an open-concept, it's performed throughout the library rather than on a stage. It has a digital component as well as live action which all melds together incredibly.
I'll say here that I think The Archive of Missing Things is one of the most incredible experiences with performance art that I've had in recent memory. There's a great deal of mystery and intrigue woven in and thus, I do think the best experience one can have is going in blind as I did. If you want, stop reading now and just go experience this wonderfully thoughtful show.
You're still here, eh? Maybe you've seen it already, or maybe you don't trust my judgment. I'll do my best to avoid spoilers, but I think just knowing the conceit of the show could take away from the joy of discovering it yourself.
But here goes, The Archive of Missing Things has the audience seated throughout the Sanderson Library following a text adventure on tablets while actors perform scenes throughout the space. But of course, they have to be quiet (it's a library after all), so you're set up with headphones that also play ambient sounds in the moments when you're just exploring the contents of the tablets.
The text adventure is an old-timey journey into mystery that is at times beautiful and wistful, and also sometimes verges on being a bit creepy. Paying attention to the scenes happening around you is important, because that's how you pick up on clues that can take you through the adventure faster. You're given a little notebook to help remember the clues.
The goal (sort of) is to make it to the end of the text adventure, but  by design, most people probably won't in the hour and thirty-minutes allotted. I was mere clicks away from the end (I like to think), but there's a hard stop programmed into the devices. We were told that making it to the end wasn't important, but darn if I wasn't gutted. Fortunately, you can sign up for an opportunity to browse the archive again on your computer. You can also go back to another performance!
The Archive of Missing Things tackles many themes, but what stood out most to me was "Nostalgia". Sitting in a library, I felt really in touch with some twelve-year old part of me as I tried my hardest to absorb everything going on around me. I can't recommend this experience enough.
Details:
Performances:
Tuesday August 13th

6:30pm – 8:00pm

Wednesday August 14th

6:30pm – 8:00pm

Thursday August 15th

5:00pm – 6:30pm

Thursday August 15th

8:00pm – 9:30pm

Friday August 16th

5:00pm – 6:30pm

Saturday August 17th

12:00pm – 1:30pm
Warnings: Audience participation and loud noises
Advance tickets are available up until 3 hours before show time and can be purchased as follows: Online, using the Buy Ticket link found on every show page; In person at the main SummerWorks Festival Box Office the Theatre Centre (1115 Queen Street West) – open August 8-18 from 12pm-8pm. Tickets purchased in advance are subject to a convenience fee of $2.50/ticket. Any remaining tickets will be made available for sale at the performance venue starting 1 hour before show time. Venue box offices accept cash only.
Money saving passes are available if you are planning on seeing at least 4 shows.
Photo provided by Zuppa Theatre Company.